The Tempest - 22 to 24 Feb 2018

The Tempest at Bason Botanic Gardens from 22 to 24 February 2018
The local Whanganui Community will experience live theatre in the natural amphitheatre setting at Bason Botanic Gardens and enjoy what many consider to be Shakespeare's last play. We will bring together the diverse community of seasoned actors and first time performers from all sectors of our community that also features all ages! From teenage dancers to retired set builders, these volunteers share their passion for performance and showcase Bason Botanic Gardens as one of the finest examples of a treasured natural asset. Bason Botanic Gardens closes at dusk, so the evening performances are the only time you are allowed on site at night.
The community will benefit by participating in the production or by attending a performance. Tickets are priced at $10 for the Thursday night and Saturday afternoon performances and $20 for Friday and Saturday night shows. We encourage school children to attend and offer teachers and guardians free entry, Community groups are encouraged to host thank you functions for their donors, staff and volunteers. The Whanganui community embrace the arts and this Shakespeare production will enable people to learn about and experience live theatre in an outdoor natural amphitheatre in the stunning grounds at Bason Botanic Gardens.
For further information, please visit websites:
www.shakespeareintheparkwhanganui.com
To purchase tickets, please visit Royal Whanganui Opera House or buy online at
www.royaloperahouse.co.nz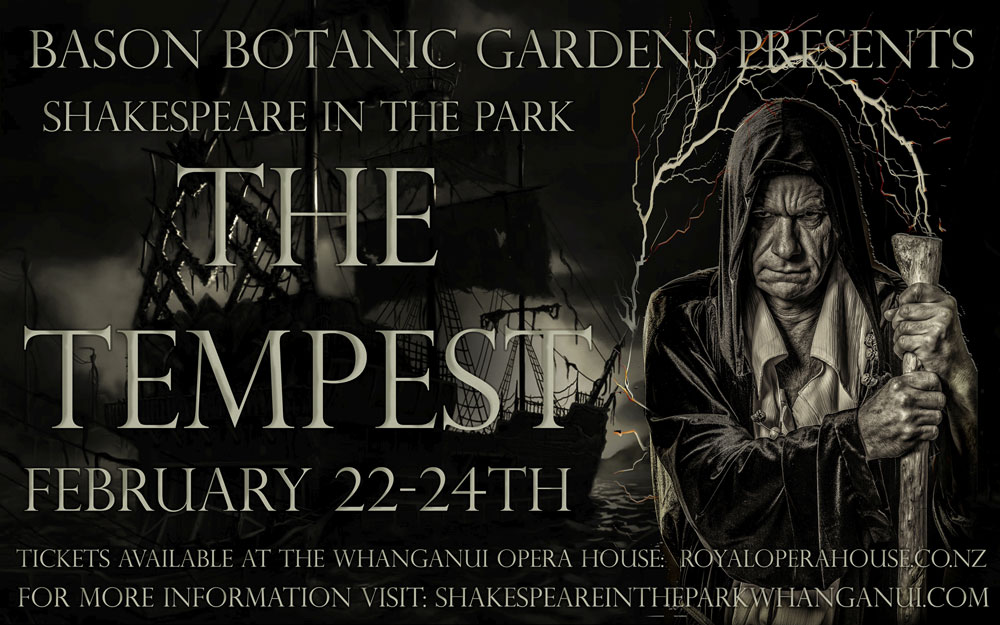 For other upcoming events, reports on previous events and other news, please read our newsletters available on his site for free. Just click here.